This is Scruffy here! Woof! I am so excited about this! Me traveling with you! Can you imagine how amazing it would be for both of us? So yesterday when you had gone for work, I got bored( I was done eating the doormat) so I wrote down a list of reasons why you should take me with you. Sorry I got hungry while writing so ate a bit of the paper.
1. I AM YOUR BEST FRIEND
Everybody keeps saying Dog is man's best friend. And so do you. So why don't you travel with us?     Don't you want to go on an awesome adventure with your best friend? Oh, come on! It'll be fun! I'll even spare your socks on this one!
2. THOSE PEOPLE ARE VERY MEAN
I miss you so much when you are gone. These people you leave me with are ,*whispers* kind of mean. Maybe that's because they just aren't you. Who will call me a good boy? Who will play fetch with me? Who will take me on long walks? Who will pass me bits of their favourite foods? Whose bed will I sleep in? I get so bored here. I wish you would take me along. I swear I'll behave.
3. I WILL PROTECT YOU
I know sometimes I act like a complete loving idiot, but have you seen my teeth? My teeth can tear up mountains. My teeth can drill holes in cement. My teeth, when bared can scare off the worst of you hoomans. How was that? I was quoting Woofsmith. But I can travel with you to the most secluded camping site. We will be such a great team!
4. I LOVE WOOFING ( TALKING)
If you take me along, everyone will want to talk to you. We dogs are great conversation starters. You take us out for a walk in the place we travel to, and within minutes we will have a million people( and dogs) around us. You will learn more about the culture and the kind of people that stay there. Your experience will be better.
5. WE CAN GO ANYWHERE YOU WANT
If we travel together, I won't say, Nahh let's not go there. I will be up for anywhere you want to go. In fact, I will be there wagging my tail. It happens with you so often that no one listens to you and you have to go where they want to go. But with me, if you are happy, I am happy.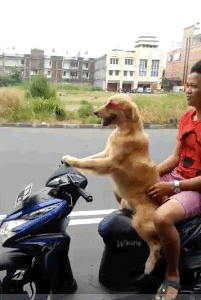 Okay so I think those many are enough( sorry Monty is barking outside, I have to go) I hope you will consider this. I would love to come with you. Think of all the ways you can dress me up. We will have so much fun together! Wooooof! BYEEEEE NOWWW! I HAVE TO GO BARK AT HIM!